" A true tour-de-force for the ensemble and quite a treat to conduct!"

Robert Ian Winstin
Conductor, Masterworks of the New Era Label
ERM Media

"[Mr. Sartor's] sense of orchestration and form is quite striking."

JoAnn Falletta
Music Director and Conductor,
Buffalo Philharmonic Orchestra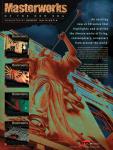 Portent and Apotheosis
aka "Concerto for Orchestra"
for Symphony Orchestra

Duration: approximately 12 minutes
This work was named as a Finalist in the Orchestral Composition Division of the 2012 American Prizes, national awards celebrating excellence in the arts. It was also a Finalist in the Columbia Symphony Orchestra's American Composer Competition. It has been recorded by the Kiev Philharmonic, conducted by Robert Ian Winstin, for release on ERM Media's "Masterworks of the New Era" CD series.
---
Program Notes
Portent and Apotheosis offers an emotional and colorful journey which springs from a motto found in the opening five measures of the work. The motto is introduced by unison flutes and passed to bassoons; the consequent phrase presented by violins in octaves serves to establish the tonal centers of G and Db as cornerstones of the composition. Thus is presented all the raw material necessary for the far-ranging exploration that is to come.
The Allegro that follows the introduction features a "primary" theme derived from the motto. The remainder of the twelve-minute work addresses both the motto proper and the derived primary theme, employing an eclectic palette ranging from the pointillistic to the lyrical. The themes are explored in a continuously unfolding development of both timbre and motive, painted in exotic textures that include piccolo and contrabassoon solos and even an extended tuba cadenza. Following the triumphant return of the primary theme, the final section of the work is marked by the extraction of the opening four pitches from the primary theme as a two-part ostinato in the upper strings and woodwinds while the brass powerfully restate the motto in augmentation and in canon. Despite an affirming cadence in Db near the end of the composition, the struggle between the tonal areas of G and Db remains unresolved until the final measure.
Instrumentation
3 Flutes (3rd also plays Piccolo)
2 Oboes
English Horn
2 Bb Clarinets
Bb Bass Clarinet
2 Bassoons
Contrabassoon


4 F Horns
3 Bb Trumpets
2 Trombones
Bass Trombone
Tuba


Timpani (4)
4 Percussionists **, playing:
Vibraphone, Glock
Chimes, Crash Cymbals, Xylophone, Giant Tam-tam, Wood Block
Snare Drum, Suspended Cymbal, Tambourine
Bass Drum, Triangle


Grand Piano

Strings

** A version using only 3 Percussionists is also available.
Published by Metamorphic Music.


---