The concert opened with the world premiere of Tennessee composer David Sartor's Metamorphic Fanfare, commissioned by the KSO. A piece with thundering percussion and heralding from the horns and brass, with shimmering connective tissue, it effectively foretold of events to come.

Harold Duckett
The Knoxville News-Sentinel




David Sartor's '[Metamorphic] Fanfare' is reminiscent of Copland's 'Fanfare for the Common Man,' but features the entire orchestra, with grandiose writing for the brass and percussion sections and colorful flourishes for the woodwinds and strings.

Sonny Marble
Florida Today




It must be said that the Metamorphic Fanfare by David Sartor was a great show opener, or, to keep the metaphor rolling, an exceptionally tasty appetizer. Rarely has something written in dear old C Major been so instantly appealing, so fascinatingly complex. But the thrill was brief, entirely too brief, since the piece lasted just a few minutes.

Nancy England
The Oak Ridger




A very exciting piece and a wonderful addition to the repertoire.

JoAnn Falletta
Music Director and Conductor,
Buffalo Philharmonic Orchestra




'Metamorphic Fanfare' is a real crowd-pleaser, and fun to play by the musicians.

Christopher Confessore
Music Director and Conductor,
Brevard Symphony Orchestra
Resident Conductor,
Alabama Symphony Orchestra




'Metamorphic Fanfare' is fresh and invigorating.

Robert Ian Winstin
Conductor, Masterworks of the New Era Label
ERM Media



...the Mozart symphony seemed to suffer a bit in scale on this occasion from having to follow the rhythmic variety and the brash and bold 20th-century textures of Dukas, Van Vactor, and Sartor.

Alan Sherrod
Metro Pulse



Short, sweet, and to the point. A job well done.

Daniel Asia
Composer



It is a masterpiece, and can be a part of anyone's orchestra library.

Jim Bermann
Florida Grand Opera, Miami City Ballet, Palm Beach Pops, Sunset Entertainment, Florida Wind Symphony, Florida Atlantic University.



..wonderfully crafted...Sartors' use of brass instruments is cunningly clever and well placed in the audio spectrum.

numusic.org


Instead of opening your concert with Fanfare for the Common Man by Aaron Copland, why not open with a fanfare the whole orchestra can play?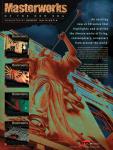 Metamorphic Fanfare
for Symphony Orchestra
Duration: approximately 2 minutes and 40 seconds
---
Program Notes
Metamorphic rocks have undergone transformation through environmental forces of heat and pressure while still maintaining properties of their former identities. Likewise, we residents of planet Earth bear little external similarity to our counterparts of 1000 A.D., having been transformed through civilization's forces of creativity, invention and technology. Metamorphic Fanfare pays homage to this continuing journey, its Creator, and the immortal spirit of humankind.

Metamorphic Fanfare was commissioned by Kirk Trevor and the Knoxville Symphony Orchestra to celebrate the new millennium. It was premiered by the orchestra on its October 19 and 20, 2000 subscription concert pair, and was subsequently broadcast and webcast on Knoxville's NPR affiliate WUOT-FM. It was also featured in November 2010 on the Knoxville Symphony's 75th Anniversary Celebration Gala Concert Pair. It has been recorded by the Kiev Symphony Orchestra conducted by Robert Ian Winstin for release on ERM Media's Masterworks of the New Era CD series.

Metamorphic Fanfare is under three minutes in length and is tonal yet contemporary. It is audience-friendly and would be a great opener for any type of concert using a full orchestra, whether indoors or outdoors.

Instrumentation
Piccolo
2 Flutes
2 Oboes
2 Bb Clarinets
2 Bassoons



4 F Horns
3 Bb Trumpets
2 Trombones
Bass Trombone
Tuba


Timpani (4)
3 Percussionists, playing:
Chimes, Suspended Cymbal, Crash Cymbals
Giant Tam-tam, Glock
Bass Drum, Snare Drum


Strings

Published by Metamorphic Music.


---