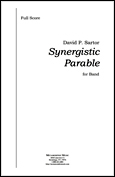 Synergistic Parable
for Symphonic Wind Ensemble



Duration: approximately 15 minutes

Winner of the American Bandmasters Association/Ostwald Award for Symphonic Band Music
---
NOTE: Metamorphic Music has regained copyright of this piece from the former publisher. A new edition with a large clear score and easy-to-read error-free parts is now available.
---
Program Notes
Synergistic Parable was written for John P. Paynter and the Northwestern University Symphonic Wind Ensemble, and was premiered by this ensemble. The work subsequently won First Place in the American Bandmasters Association /Ostwald Band Composition Contest and was performed by the U.S. Marine Corps Concert Band in Washington D.C. and at the ABA National Convention in Knoxville, Tennessee. Additionally, the piece won the Appalachian State University Wind Ensemble Composition Contest, with a resultant performance by the Appalachian State University Wind Ensemble. The composition is fifteen minutes in length, with a difficulty rating of '5'.
Synergism indicates that the whole is greater than the sum of its parts. In Synergistic Parable, as each thematic component evolves it becomes part of the total vocabulary of the work. As ideas are explored and restated, they are viewed with greater perspective.
About the American Bandmasters Association/Ostwald Award
Sometimes referred to as the "Pulitzer Prize of Symphonic Band Music," the American Bandmasters Association/Ostwald Award is one of the most prestigious in American music and has stimulated the creation of more concert band music in its 48-year history than any other competition. The award has recognized works by Clifton Williams, John Barnes Chance, Robert E. Jager and other prominent American composers. Entries in the competition are screened by a committee selected from the ABA's membership, and one composer is selected annually to receive the award.

Instrumentation and Parts Provided
Flute 1 (3)
Flute 2 (3)
Flute 3 - also plays Piccolo (3)
Oboe 1 (1)
Oboe 2 (1)
Bb Clarinet 1 (3)
Bb Clarinet 2 (3)
Bb Clarinet 3 (3)
Eb Alto Clarinet (2)
Bb Bass Clarinet (2)
Bb Contrabass Clarinet - Eb Contrabass Clarinet substitute part provided (1)
Eb Alto Saxophone 1 (2)
Eb Alto Saxophone 2 (2)
Bb Tenor Saxophone (2)
Eb Baritone Saxophone (1)
Bassoon 1 (1)
Bassoon 2 (1)


Bb Trumpet 1 (2)
Bb Trumpet 2 (2)
Bb Trumpet 3 (2)
F Horn 1 (1)
F Horn 2 (1)
F Horn 3 (1)
F Horn 4 (1)
Trombone 1 (2)
Trombone 2 (2)
Bass Trombone (2)
Euphonium - Treble and Bass Clef parts provided (2 each)
Tuba (4)


String Bass - optional (1)


Timpani - 4 drums (1)
Percussionist 1 (1)
Chimes, Crash Cymbals
Percussionist 2 (1)
Glockenspiel, Snare Drum, Crash Cymbals, Suspended Cymbal
Percussionist 3 (1)
Large Tam-tam, Suspended Cymbal
Percussionist 4 (1)
Bass Drum, Triangle


Published by Metamorphic Music.


---